Profile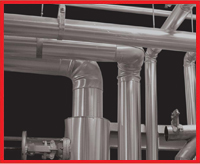 3i Aluminum with its corporate base in Bahrain is one of the major manufacturers and suppliers of Aluminum & stainless steel roll jacketing for a variety of Petrochemical, Oil gas Insulation Projects in the Middle East region. With our experience and sound technical knowledge, we are able to provide good engineering solutions and assist our customers with their various requirements.

We specialize in manufacturing Roll jacketing recommended for use in insulated piping projects, and we are supplying heat laminated moisture barrier systems of Aluminium from major leading manufacturers of aluminium in the world for various thicknesses in order to cater to the insulation industry for their metal jacketing requirements. Polysurline or Poly-Kraft bonded Aluminium and Stainless Steel jacketing are being manufactured by us. Stucco embossing metal jacketing or corrugated jacketing with moisture barrier can be supplied as per customer requirements.

Our main product is high corrosion-resistant Aluminum roll jacketing. Our material is manufactured only from first quality Aluminium and SS jacketing system sourced from world class manufacturers and the best industrial suppliers across the world.

Our main products are:
>> Sheets - Deep Corrugated Sheets, available in Aluminum, painted Aluminum and stainless steel and Box Rib Sheets.
>> Banding - Aluminum and stainless steel strapping available on request.
>> Accessories - SS Band, Wing seals, springs and more accessories are available on request.
Write to us for details our technical specifications, prices and any other information that you may require to sales@3ialuminium.com